Planning Your Wedding?
Wedding of your dreams
Weddings
M Hotel Singapore City Centre
Wedding Banquet and Packages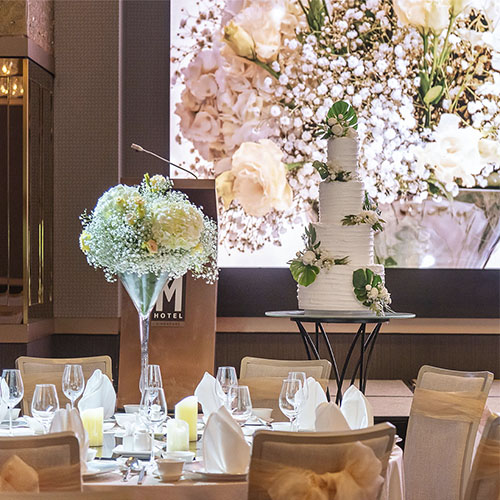 Begin your Voyage of Love;
the magical journey of a lifetime here at M Hotel where we will walk with you every step of the way, leading you down the aisle with a spectacular and bespoke wedding experience.
In this Voyage of Love, let us celebrate your love with wedding themes curated to meet varied styles. Donned in grand splendour and timeless champagne, bask in the opulent ambience that sets well in our Grand Banquet Suite with gold pillars and beautiful crystal chandeliers. Walk into a picturesque garden wedding filled with dreamy foliage in an alluring ivory setting or celebrate with an oriental touch adorned in hues of passionate red and lucky gold that pays tribute to the Chinese tradition in a classy way.
Meet our meticulous and brilliant wedding planners; well-versed in the art of tailoring a banquet that spells out the couple's love story.
Where dream weddings come true, right here at M Hotel. Click Here for more details.
M Hotel Wedding Packages :
Voyage of Love Wedding Package 2024 2025
For more information, contact our Wedding Planners at mywedding.mhs@millenniumhotels.com