Faradays
Located on the ground floor directly off main reception Faradays offers an a la carte menu service for lunch and dinner alongside a selection of daily specials served each evening from 5.30pm which enables our of brigade of Chefs the opportunity to showcase their talents. The bar opens at midday and serves until 11pm after which time guests will be required to show proof of residency to obtain service. Bar closing time is at the discretion of the hotel management team each night. The patio overlooking the Waterfront provides panoramic views of the canal basin and should the weather turn inclement then you can still enjoy the outdoors in one of our new dining pods.
Breakfast is served from 6:30am - 10:00am on Weekdays and 7:30am - 11:00am on Saturdays and 7:30am - 11:30am on Sundays and Bank holidays. Dinner is served in Faradays from 5.30pm – 9.30pm from Monday to Saturday. Sunday evenings are closed (Bar food available). Limited room service is available 24 hours per day subject to £5 delivery charge.
Please Note: The restaurant will be closed on Friday 8th, Saturday 9th, Friday 15th and Saturday 16th December due to Christmas parties.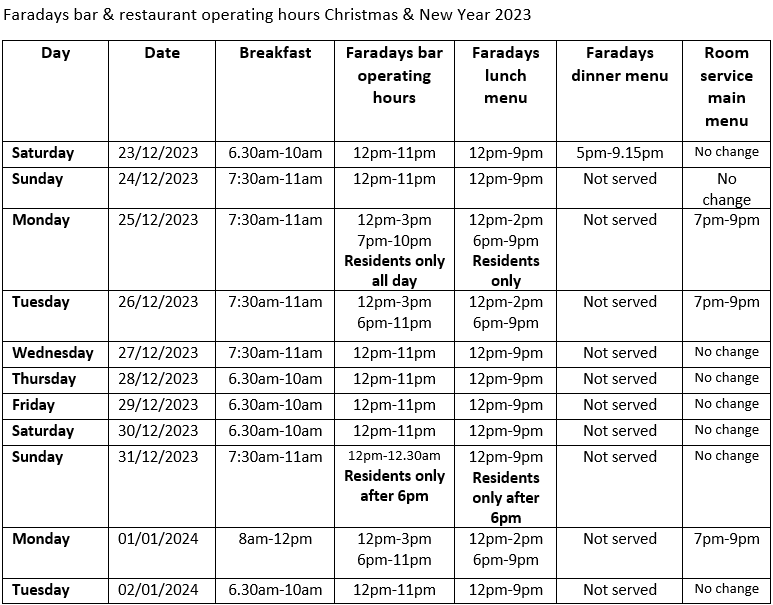 Hotel
Copthorne Hotel Merry Hill-Dudley
---
Cuisine
British
---
Information
The Waterfront Level Street, Brierley Hill Dudley, United Kingdom DY5 1UR
Monday:Breakfast served: 6:30am-10:00am, Evening service: 5:30pm-9:30pm Tuesday:Breakfast served: 6:30am-10:00am, Evening service: 5:30pm-9:30pm Wednesday:Breakfast served: 6:30am-10:00am, Evening service: 5:30pm-9:30pm Thursday:Breakfast served: 6:30am-10:00am, Evening service: 5:30pm-9:30pm Friday:Breakfast served: 6:30am-10:00am, Evening service: 5:30pm-9:30pm Saturday:Breakfast served: 7:30am-11:00am, Evening service: 5:30pm-9:30pm Sunday:Breakfast served: 7:30am-11:30am, Evening service: Closed