Nostalgic Playtime Afternoon High Tea Set
Relive your childhood and unleash your inner child with a playful back-in-the-day afternoon high tea. Immerse yourself in a curated heritage experience that showcases the vibrant traditions and rich tapestry of local flavours, represented in a three-tier tiffin - 'tingkat' and 'congkak', an old-school game from yesteryear.
Indulge in exquisite renditions of local favourites with the likes of Pulut Hitam Savarin, Crème Brûlée with Coconut Pandan Jam, Almond Lychee Kadaifi, Lemon Longan Scone with Chicken Floss. Take a bite out of the Miniature Nasi Lemak, Charcoal-battered Fish Bites and sip the afternoon away with a delicious mocktail inspired by the strawberry cheesecake dessert as well as unlimited refills of barista coffee and tea.
$88++ for 2 pax | 2:30PM - 4:30PM Daily
Tea Bar, Lobby Level
Menu:
Sweets
Lemon Longan Scone with Chicken Floss
Almond Lychee Kadaifi
Aloe vera Mango Pudding with Passion Fruit Pops
Crème Brûlée with Coconut Pandan Jam (kaya)
Pulut Hitam Savarin
Duo Gourmet Chocolate Strawberries
Edible Potted Plants
Savoury
Miniature Nasi Lemak Euphoria
Golden Sand Charcoal Batter Fish Bites
Vine-ripe Cherry Tomato stuffed with tangy Mango Salsa
Beverage
Strawberry Cheesecake Mocktail
Barista Coffee or Tea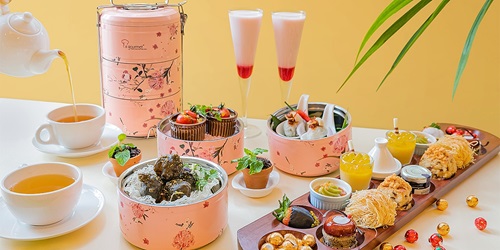 Terms and Conditions
Prior reservation is required and subject to availability.
Prices are subject to service charges and prevailing government taxes.
Promotions and discount offerings may not be used in conjunction with one another.
The restaurant reserves the right to change or amend any terms and conditions without prior notice.