K-Pot Buffet
Korean-themed Halal Hotpot Dinner Buffet
Nothing is keeping Singaporeans and the world alike from our love for anything Korean! K-Pop, K-Drama, K-Food… you name it!
Get K-razy with us as we ride the K-waves with our very own Budae Jjigae, free-flow Banchan, Bingsu ' live' station and more!
Known for our homemade rich and flavourful broths, now you don't have to look too far when you are craving for some Budae Jjigae (Army Stew) that hits the spot. DIY your pot of army stew with your favourite ingredients such as ramyeon noodles, enoki mushrooms, sausages, rice cakes or get creative with a wide buffet spread of the freshest seafood, premium meat choices, handmade 'yong tau foo' to dip into the piping hot soup! Believe us when we say that the spicy soup will get even more daebak, and intense toward the end, bursting with Gochujang flavours and more!
Complete your K-experience with Free-flow Banchan such as the Pickled Radish, Korean Mashed Potato, Cucumber Salad, Kimchi and more! Tuck into hot tasty K-signatures prepared by our chefs such as the Steamed 'Mandu' (Korean Dumpling), Korean Fried Chicken, Braised Korean Beef, Japchae – Korean Stir-fried Glass Noodles and more!
Another not-to be missed part of a Korean meal is the 'Bingsu' – a fluffy refreshing Korean dessert that we are very sure will hit the sweet spot! Make your own variations of Bingsu including the popular Mango Bingsu, with the selection of toppings available at the 'live' station.
Complimentary Roasted Barley Tea will be served throughout the dinner buffet.
Other highlights of the buffet include the premium selections of seafood such as prawn, scallop and meat including chicken, beef, lamb as well as assorted 'yong tau foo' alongside popular broths such as our Msg-free Supreme Collagen Rich Broth and many more!
Available from 22 May to 31 July
Sunday to Thursday, 6pm to 10pm $58++
Friday and Saturday, 6pm to 10pm $68++
Promotion: Dine 4 Pay 3 with min. 3 paying adults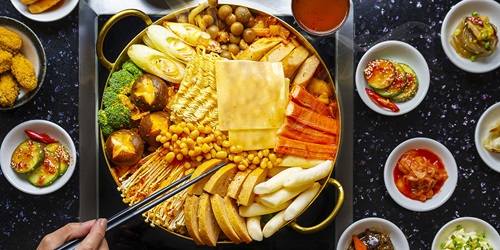 Terms and Conditions
All promotions are not valid with other ongoing promotions, offers, vouchers, discounts, promotional set menus, privilege card(s), loyalty programme or in-house offers, unless otherwise stated.

Valid for Dine-In only.

Hotel reserves the rights to amend the T&Cs without prior notice.